The IFRS Module complies with IFRS reporting requirements which were implemented in the Sultanate since 2018. The IFRS Module caters to the extensive demand from the credit industry. IFRS 9 revisits the methodology of accounting for classification and measurement of financial assets and expected credit loss.
The IFRS Module will enable meeting all regulatory requirements in a cost-effective way, with the benefit of Mala'a database
What is IFRS 9?
IFRS 9 is a new international accounting standard replacing IAS 39. It sets out the requirements for recognising and measuring financial assets and liabilities. In particular, it sets requirements on the assessment of the risk of a loan portfolio, based on statistical forecasts of expected losses from defaulted loans. For each existing Credit contract, an Expected Credit Loss must be calculated against which provisions must be set aside by the Credit Provider.
The basic formula for calculating Expected Credit Losses is:

Expected Credit Losses must be calculated either for the next 12 months of the contract's life or the remaining lifetime of the contract.
Asset @ Stage 1
Initial recognition of asset OR credit risk has not increased significantly since initial recognition.
12M ECL
Asset @ Stage 2
Credit risk has increased significantly since initial recognition AND the resulting level isn't considered to be a low Credit Risk.
Lifetime ECL
Asset @ Stage 3
Credit impaired asset:
likely to be in default.
Lifetime ECL
Mala'a IFRS 9 Module
Mala'a offers a uniquely strong Probability of Default (PD) model to its members to be used in calculating the financial institution's ECL and impairment levels. These models cover PD at Origination, PD over 12 months and PD over Lifetime.
Mala'a IFRS 9 PD Module will cover all types of retail credit (consumer credit, real estate, SME lending). The IFRS 9 Module will also contain forward-looking macroeconomic variables to ensuring IFRS 9 compliance.
In addition, Mala'a can automate the production of a member's IFRS 9 report subject to the following:
Loss Given Default values for each product
Staging Policy to determine ECL 12 months or ECL Lifetime calculation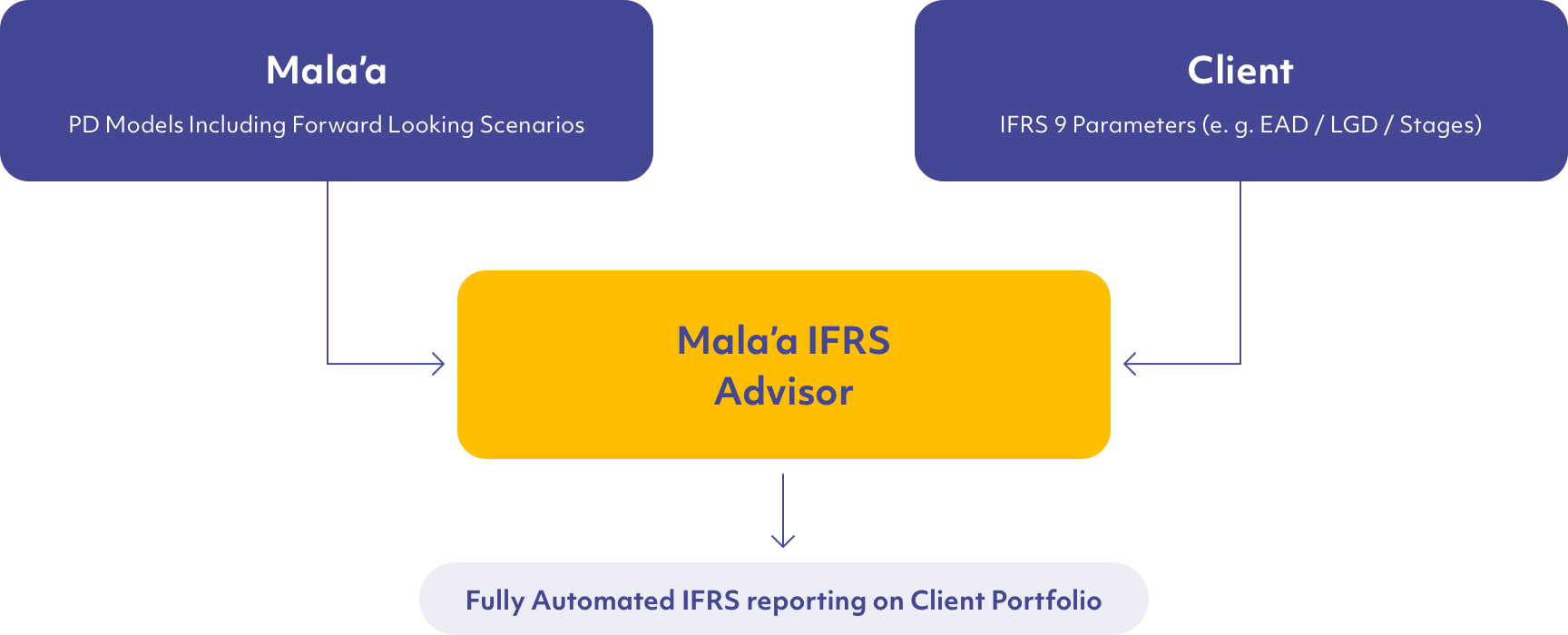 Benefits of Mala'a IFRS 9
Mala'a IFRS 9 solution brings multiple benefits to its members:
IFRS 9 compliance
Cost and time effective IFRS 9 report production
Most accurate available assessment of the risk portfolio
Are you interested? Let us know!