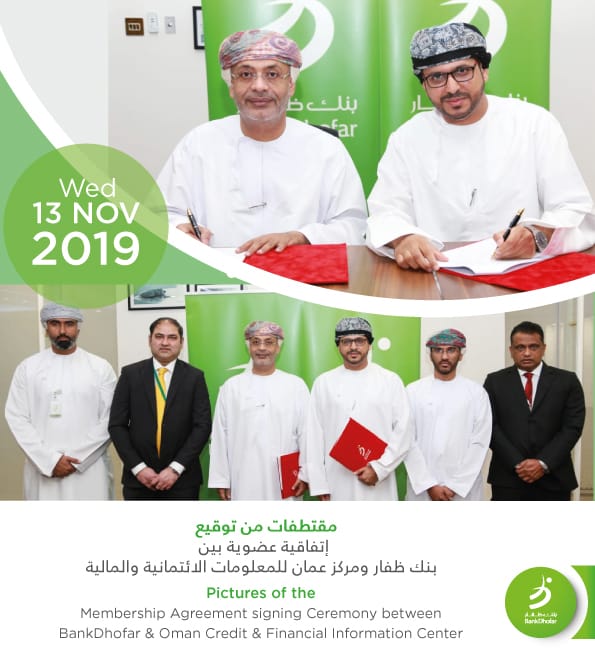 Bank Dhofar has signed a membership agreement with Oman Credit & Financial Information Centre to reduce credit risk by providing international standard credit and financial reporting system for the assessment of solvency of customers.
The membership agreement states that Mala'a provides a central database of credit and financial information at the national level with the purpose of assisting members in making credit and/or business relation decisions through the assessment of solvency of their customers leading to reduced credit and financial risks and extension of financial inclusion in the Sultanate of Oman.
Mala'a was established by Royal Decree 38/2019 by his late Majesty Sultan Qaboos-May Allah Rest his Soul in Peace- issued on May 8th 2019. The Center includes members from the banking, financial, insurance, and telecom sectors, as well as SMEs funds. The center also includes several government and private registries as Data providers. As per the Royal Decree, Mala'a provides a database of credit and financial information on a national level, to aid its members and beneficiaries to assess their clients' solvency, and therefore reduce credit risks, improve loans quality, and reinforce financial inclusion in the Sultanate, relaying on a state-of-art technologies and global standards.
Bank Dhofar is one of the fastest growing financial services institution in the Sultanate, offering Corporate banking, Consumer banking, Treasury and Project Finance services – designed to meet the diverse needs of consumers, small and medium size businesses and mid-market companies in the region.