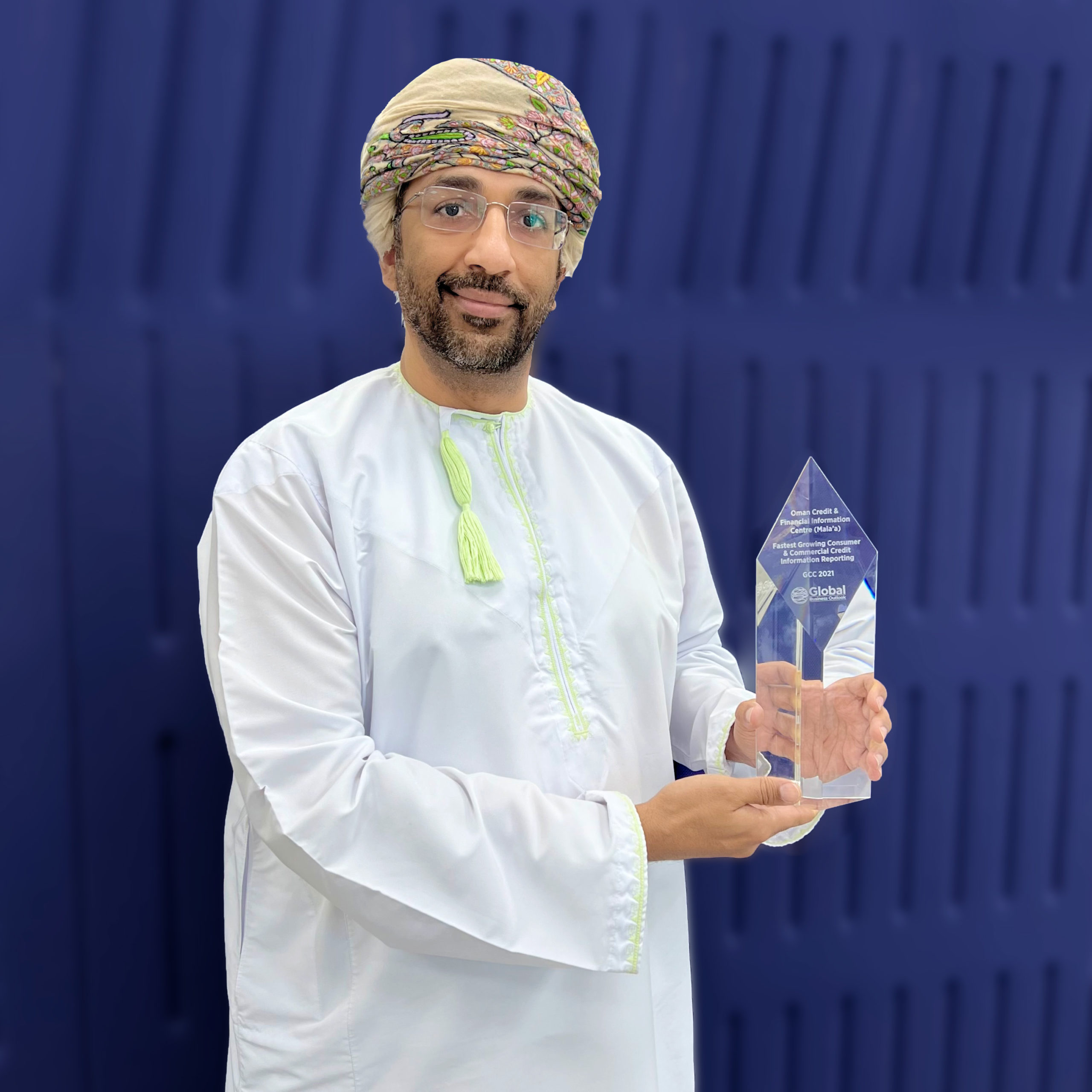 Oman Credit and Financial Information Centre (Mala'a) won the Global Business Outlook Award for the "Fastest Growing Consumer & Commercial Credit Information Reporting in the GCC" for the year 2021. The achievement is a testament for Mala'a's efforts in developing the credit system in the Sultanate since its inception in 2019 with the support of its data providers (Royal Oman Police, and Ministry of Commerce, Industry and Investment Promotion) as well as its member banks, FLCs and SME Funds.
Mala'a, under the supervision of Central Bank of Oman, represents a National Data Bank for credit and financial information. The center provides Credit Reports and the Mala'a Credit Score for individuals and corporates. The membership of the center spans across the banking and financial sectors, with the addition of the SME Funds recently. The center aims to add new sectors under its membership in the upcoming phase such as Telecom and Insurance. The center also aims to grow its connections with several data providers from the government sector.
Mala'a is a 3-phase project, the first phase has been successfully implemented and the second phase is underway. The first phase of the project included the development of the Mala'a system, Onboarding Banks and FLCs, SME Funds and connecting to Royal Oman Police, Ministry of Commerce, Industry and Investment Promotion, rolling out enhanced credit reports for individuals and corporates and the launch of Mala'a Credit Score.
Mala'a aims to support boosting the national economy by reinforcing financial inclusion and granting access to credit to all society segments, increasing the financial balance level of the Sultanate, supporting responsible lending and mitigating the credit risk in Oman. The center is also a vital component to accomplishing Oman Vision 2040 priorities and their strategic goals, especially the Economic Diversification and Financial Sustainability.
On Mala'a winning this prestigious award, Bassam Al Jamali, Mala'a General Manger, said: "Mala'a winning this award is the result of the dedicated efforts carried out by the Mala'a team to position Mala'a as a National Data Bank providing credit and financial information. We are proud of this recognition that adds up to Mala'a's achievements, and we look forward to more in the future. I would also like to thank the Central Bank of Oman and its Board of Governors for their continuous support."
Global Business Outlook is a UK-based publication dedicated to covering vital industry sectors.